Paper-based time management forms are more engaging and less distractive. 
Although there is software available providing solutions to manage time properly, paper-based time management forms come in handy for students and individuals. Especially for people who want to bypass technical complexity and avoid distractions. If you are looking for a simple system to manage your time and personal to-dos, paper-based worksheets can serve your purpose. 
In this article, you'll find 3 basic time management templates that you can use simply by downloading and customizing them in your own way. Also, a suggestion of a planner to plan your day in a more organized way.
1. Time Tracking Log 
This form is not related to planning and managing time, but it will help you get a baseline to start your journey toward time management. You'll get an idea of your time usage and the pattern of your daily activities. You'll know how long it takes you to complete each task. Analyze your daily activities and identify if you're wasting time on unnecessary activities or not.
Once you have a sense of your working pattern, you can plan your days and estimate time according to the tracking results. However, you do not need to track time throughout the year. It is a short-term process, lasting only 7 to 15 days. Here are the steps to get started. 
Choose a tracking period. How long are you planning to track activities and use the time log—7 days or 15 days? Print the time-tracking log form and use it for each activity. 

Record activities. Record the start and end times for each activity as they occur. Don't leave it until the end of the day. Because of the delay, the accuracy of the process may diminish.

Write in detail. Be more specific when writing activities. Instead of writing "working," write down "working on project A" or "preparing the presentation." The more details you include, the more effective your time log will be.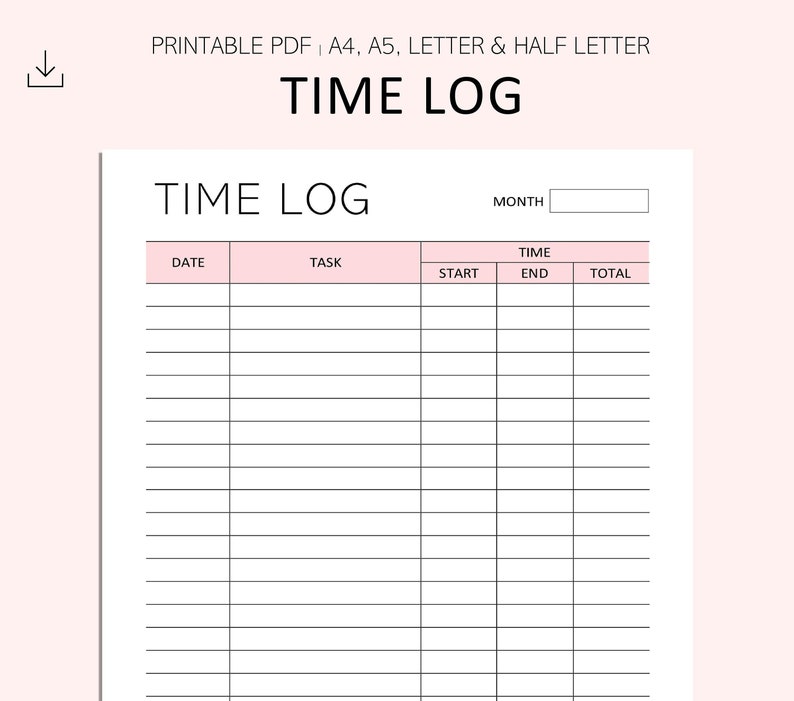 Recommended Tool
To make the tracking process automated, you may want to consider RescueTime. This simple time tracking software runs in the background and sends your activity report in the mail.  
2. To-Do List
The most simple and popular time management tool for nearly every profession. There are a bunch of apps and tools available online to create a to-do list. If you are looking for a simple and structured to-do list template, these forms will be the right ones for you. Instead of jotting down your tasks randomly, you can write down your to-dos on one of these forms based on their priority.
Here are some tips for creating a better to-do list: 
Start with verbs. Instead of writing "assignment on physics," write "create an outline for a physics assignment." It will give you a sense of taking action. 

Divide the work into smaller chunks. If a task is large enough to be completed in one day and the due date is not urgent, divide the task into several small increments and put them on the to-do list. 

Combine similar tasks. When you do similar tasks in a single time block, your productivity will increase, and you can avoid multitasking. 
3. Weekly planner
It allows you to view the entire week's tasks together. By knowing your weekly targets ahead, you can plan other work in the best way. A weekly planner is an ideal scheduling format to balance short-term and long-term goals. Because it is short enough to deal with immediate demands and long enough to reflect on the most significant tasks.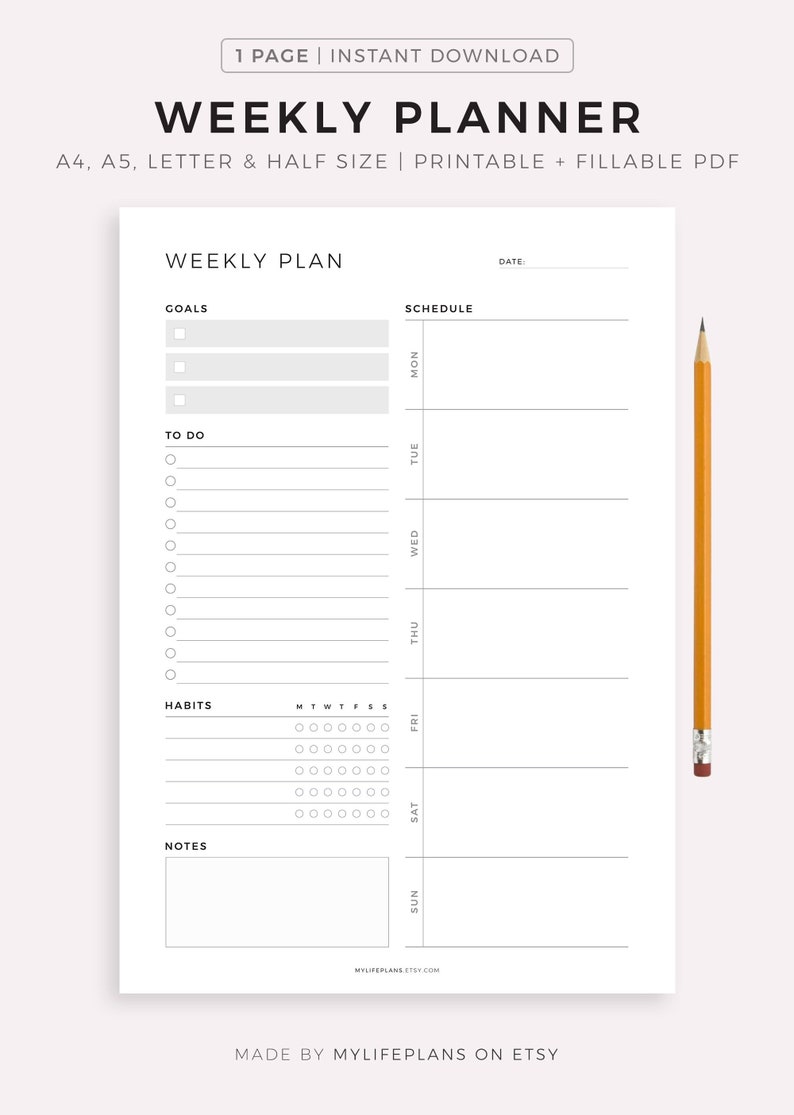 Here are the steps to planning your week in a weekly planner format. 
To begin, prioritize high-impact tasks in the planner,

Then schedule other essential commitments – meetings, lunch, family time, etc.

Review the previous week's execution and schedule its incomplete tasks for the present week.

Once you have got an idea of how much time is left in the week, you can accommodate other tasks in the planner.
All forms are in a single place
What if you get all the forms in a single binding? A planner is a handy tool to get daily and weekly planners in one place. It will assist you in staying accountable, organized, and on track to achieve your goal.
Of the many planners, you may consider the Clever Fox Daily Planner. 
With this undated planner, you may start arranging your days at any point during the year. It is specially designed to help you manage your time effectively and increase your productivity to hit your goal. The gratitude journal and habit tracking features will give you a sense of empowerment and help you feel happier and more fulfilled.
Clever Fox Planner Daily

Undated Agenda & Daily Calendar to Boost Productivity & Hit Your Goals – Gratitude Journal Personal Daily Organizer – 5.8×8.3" Lasts 6 Months
Why

use paper planners for time management forms?
These time management forms may seem like old-school worksheets, but they can be more productive than the digital alternatives.
It's more engaging to write things out by hand. Also, when you write things down, it's easier to remember them.

Everything is in one place. You do not need to jump from one app to another to keep track of your to-dos and appointments. 

Easier to reflect.

A paper planner will give you a quick glance at the previous weeks. You can rearrange your schedule if anything seems unnecessary. 

More

satisfying. Crossing off a task on a physical piece of paper offers a sense of achievement more than an app. 

Less

distractive. With paper planners, you are less likely to be distracted by notifications, messages, and videos. 
Conclusion
For personal purposes, a time management system should be easy to follow. Also, instantaneous in execution in day-to-day life. Instead of making it complicated with multiple tools and apps, develop a strategy with simple forms. You can save a lot of time and energy by doing so.